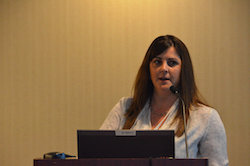 Karen Withers will be taking the reins for American Seed Trade Association's  International Executive Committee for the coming year.
Withers works for Pennington Seed handling their international sales, so she's well versed in trials and tribulations that come with work on the international level.  She's also had two years serving the committee as vice chair, joining the year before that as chair of the Phytosanitary committee- a group with an interest in the international sector.
According to Withers, IEC is very busy, covering a variety of topics and meeting several times each year.  "It's a very active group. They're very proactive in trying to solve issues going on for all sectors of the seed industry," she says, talking about the work they do with embassies in Washington D.C.
But if the work is varied it's also unpredictable. Withers says it's hard to pinpoint what might take place in the coming year. There will certainly be issues involving TTP, but the uncertainty of the agreement means the committees work is undecided as well. Regardless, we wish her well.
You can listen to my full interview with Karen here: [wpaudio url="[wpaudio url="http://traffic.libsyn.com/zimmcomm/ASTA-Withers-2016.mp3″ text="Interview with ASTA IEC Chair, Karen Withers"]