When it comes to volunteering and service there are some people who just seem to stand out. Here at the American Seed Trade Association annual meeting the board took the opportunity to honor a few of those people and thank them for the contributions they've made to the industry.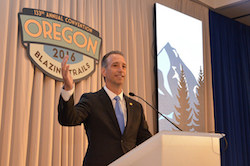 Mike Gumina was recognized with the ASTA Lifetime Honorary Member Award. Gumina is the global CEO of RiceTech AG and volunteers, he says, for the Karma.  Gumina has spent his career working in agriculture, figuring it to be the next best thing to farming.  In the early 90s he first joined ASTA.  When he got the chance to serve on the ISF board he found a fit.  "That was a great opportunity for me to use my international business experience and be additive to the overall seed trade process," he shares.
Serving in that capacity lead to a 14 year stretch of working in various positions, during which time he's learned that the issues facing the seed industry haven't changed as much as one might think.
"I think the challenges are the challenges they've always been.  We have to communicate the value of seed, the value of research, the value of intellectual property rights.  We need to advocate for our positions in the various government venues so we can have an environment where our companies can succeed and our customers can succeed.  Those aren't really different from 100 years ago when the Association was established."
What is different, Gumina says, is that the industry is much more heavily regulated, and the intensity we'll have to attack those issues is greater as well.
Listen to Cindy's interview with Mike here: [wpaudio url="http://traffic.libsyn.com/zimmcomm/asta-16-gumina.mp3″ text="Interview with Mike Gumina, ASTA Award Winner"]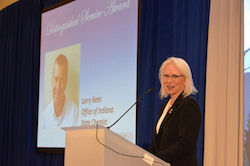 Larry Nees was also honored with the ASTA Distinguished Service Award.  Nees is a chemist for the State of Indiana and was unfortunately not able to attend the event in person, but did send a video thank you for the honor of being selected.
href="https://www.flickr.com/photos/zimmcomm/albums/72157669420357292″>2016 ASTA-OSA Annual Meeting photo album