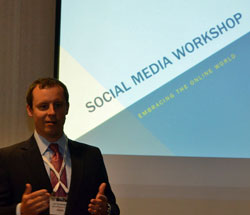 As the American Seed Trade Association (ASTA) 133rd annual meeting kicked off in Portland, Oregon over the weekend, the Management Skills Committee focused on using social media to fight the spread of misinformation about agriculture and technology.
Jim Schweigert, president of Wisconsin-based Gro Alliance, started off the social media session by presenting a montage of tweets and Facebook posts deriding biotechnology and noting the reach that many detractors, such as Gwyneth Paltrow and Dr. Oz, have. "You can't overstate it – the future of food is at stake," said Schweigert. "If the voice of those who are against innovation and technology win the day, then the ability to develop better seed, better crops, and better food products is greatly diminished." He says it is the responsibility of those in the seed industry to talk about why innovations and technology matter and how they improve food for the world.
As the nation's largest independently owned contract seed corn production company, Gro Alliance produces GMO, non-GMO, and organic seed products, and Schweigert especially dislikes seeing segments of the industry work against each other, such as the negative messages propagated by the group Seed Matters. "You don't have to disparage somebody else to promote your product," he says. "It really becomes disingenuous."
Schweigert encourages everyone in the seed and agriculture industries to become active on social media if they are not already, engage with people who have questions about technology, and be positive in the face of negativity.
Listen to my interview with Jim here: [wpaudio url="http://traffic.libsyn.com/zimmcomm/asta-16-schweigert.mp3″ text="Interview with Jim Schweigert, Gro Alliance"]