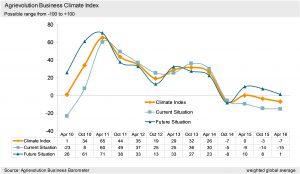 Results from the latest Agrievolution Business Barometer survey are showing that, while the global downturn in the agricultural machinery industry seems to have stabilized, global recovery is not in sight for the next six months, and the sector may stay at current low levels.
The survey found that the global business climate index is back to the low level of October 2014. While the current situation is evaluated to be significantly worse, future expectations have improved, but they are far more muted when compared with two surveys taken in 2015.
The biannual survey, produced by the Agrievolution Alliance, also found that East Asia leads the rankings for global industry expectations for single markets in the next six months, followed by Africa, while a majority of the survey participants expect turnover decreases in North and Latin American nations.
The survey found that the general mood of farmers is remaining negative, with low commodity prices and profitability serving as the major cause. Prices are not projected to change in the short-term.