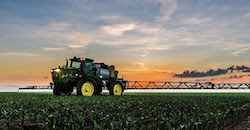 John Deere dealers in North America will now sell and support the nutrient application products 360 Y-DROP and 360 UNDERCOVER.  The announcement came this week after an agreement between Deere & Company and 360 Yield Center.
"This innovative application technology from 360 Yield Center," says John May, president, agricultural solutions and chief information officer, John Deere, "helps to improve timing and placement of nutrients with John Deere and Hagie application equipment, including self-propelled sprayers and toolbars. John Deere dealers will be able to provide sales and service support for these application products to help producers apply in-season nitrogen and plant health products where and when it's needed."
John Deere only recently announced a joint venture with Hagie Manufacturing to sell and service the Hagie high-clearance sprayer.  Now the new addition will create more alignment and innovation for sprayers.
"Demand for the 360 Yield Center nitrogen utilization products is tremendous. That's why we are pleased with this allied distribution agreement with Deere," says Gregg Sauder, president, 360 Yield Center. "We can now service and support more customers through the broadest dealer network in the U.S. and Canada. We have had a successful marketing partnership with Hagie and we are excited to extend this relationship to John Deere, their dealers, and their self-propelled sprayer and nutrient applicator line-up."
Products you will soon find at your local John Deere dealership include:
360 Y-DROP gives farmers a wider window of application and more control over when and where to apply nitrogen and other nutrients to their crops. The unique design allows farmers to apply full-season nitrogen – even up to tassel – with precision placement and variable rate application.
360 UNDERCOVER helps farmers protect crops from late-season disease and insect infestations. It uses multidirectional spray nozzles and slides easily under the canopy so farmers can target fungicides, insecticides and nutrients exactly where needed for better product efficacy and improved crop health.
"John Deere now offers a more comprehensive application equipment line-up with the latest technology to help growers and commercial operators apply efficiently and accurately in all crop conditions," says May. "Add to that our precision ag and data management technologies with the industry-leading support and service from our dealers, we've got an unmatched value proposition for our customers."