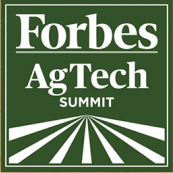 Forbes Media will be hosting its second AgTech Summit on July 13-14, 2016 in Salinas Valley California.  More than 500 of the brightest and most entrepreneurial minds will be attending this two-day, invitation-only event, hoping to tackle some of agriculture's greatest challenges.
The event is expected to bring about lively debate and offer great networking opportunities.  It will also be a site for showcasing the latest innovation for farmers and those in the agriculture industry.
Activities begin with field demonstrations and a plant tour of Mann Packing and Taylor Farms and continue with a tour of Tanimura & Antles' farmworker housing complex.  The Innovation Showcase and Plenary Sessions are back from last year, featuring more than 35 AgTech startups.
Speakers Include Julie Borlaug, Borlaug Institute for International Agriculture, Texas A&M; Mike Macrie, SVP/ Chief Information Officer, Land O'Lakes, Inc.; Kip Tom, Managing Member and CEO, Tom Farms; Jorge Heraud, Co-founder and CEO, Blue River Technology; Dr. Ron Meeusen, Managing Director, Cultivian Sandbox; Robert T. Fraley, Ph.D., Executive Vice President & Chief Technology Officer, Monsanto; Sara Menker, Founder and CEO, Gro Intelligence; and Bruce Taylor, Chairman and CEO of Taylor Farms, among others
"This summit is a fantastic opportunity for the AgTech community to discuss real solutions in accelerating new technologies and capabilities in farming," said Bruce Taylor, Chairman and CEO of Taylor Farms. "We are currently in trials with eight of the participating companies we met during last year's Forbes AgTech Summit."
"We are convening over 500 of agriculture's leading voices to debate, discuss and showcase innovative solutions to the most daunting challenges facing global agriculture," said Paul Noglows, Executive Producer of the Forbes AgTech Summit. "We can think of no better place to do that than historic Main Street Salinas where the Salinas and Silicon Valley's meet."
The founding partner of the Forbes AgTech Summit is SVG Partners and its Thrive Accelerator. Presenting sponsors include Western Growers and the City of Salinas. Partner sponsors include Land O'Lakes, Inc. and Monsanto. Supporting sponsors include Davis Wright Tremaine LLP, Driscoll's, Novozymes, Produce Marketing Association and Taylor Farms. Hartnell College will be hosting the Field Demos at its Alisal Campus and both Mann Packing and Taylor Farms will be hosting plant tours. The official travel partner is Monterey County Convention & Visitors Bureau. The Mixing Bowl is Program Partner for the Summit.
For more information, please visit http://www.forbesconferences.com/event/2016-forbes-agtech-summit/.