The growing season for 2017 will bring about some promising new additions to John Deere's product line up.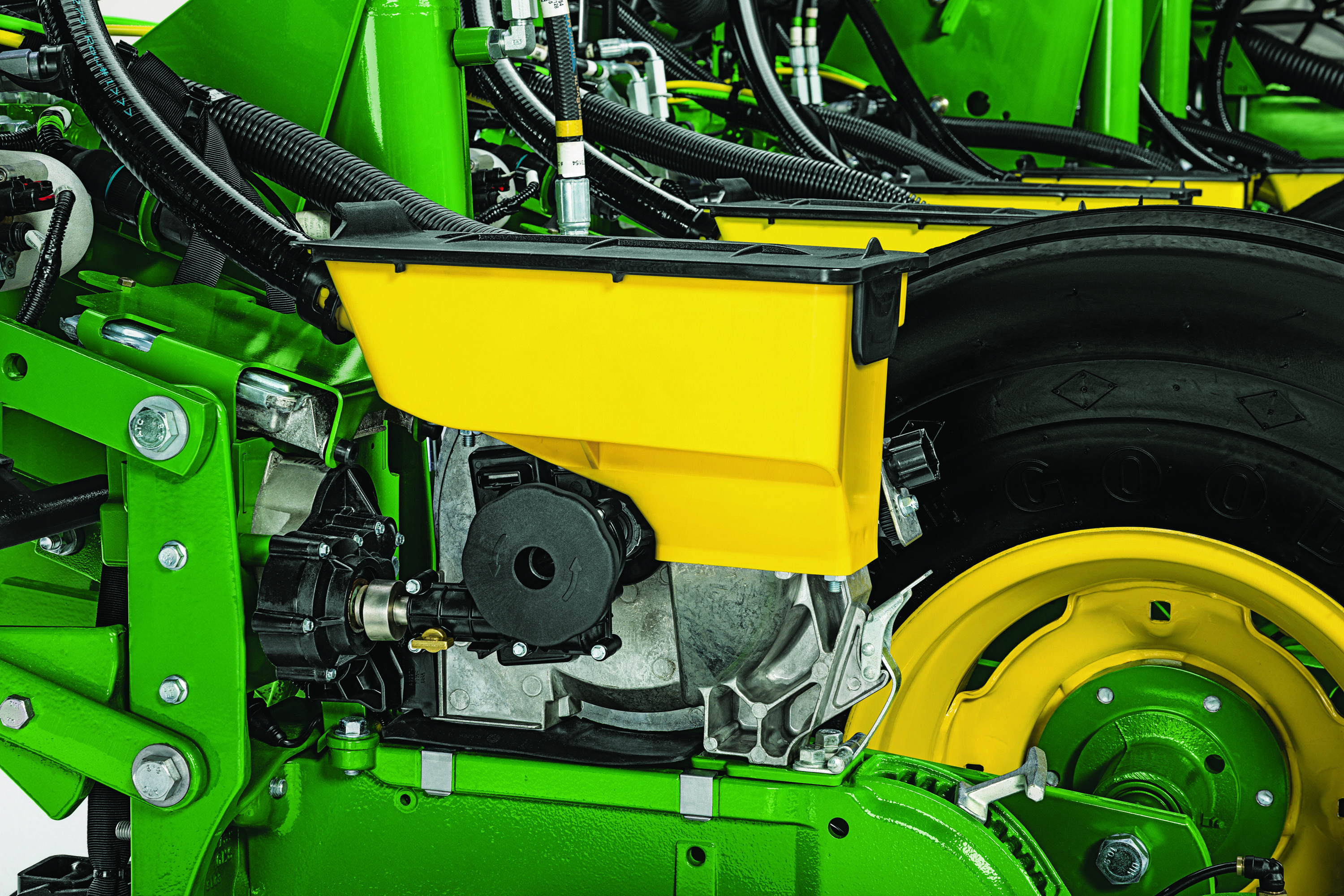 Available next spring is the new MaxEmerge 5e row units for a variety of Deere planters, including the mini-hopper and DB planters. MaxEmerge 5e row units will improve seeding population accuracy when it operating on a curve– up to 20 percent improvement in fact, along with eliminating a potential yield loss due to inaccuracies.
While the MaxEmerge 5e row units still utilize a seed tube, an electric drive meter on each row unit replaces traditional shafts and drivelines, allowing each row unit to work independently. Eliminating these components also provides easier access to each row unit and decreases time and labor needed for planter maintenance.
Standard features of the MaxEmerge 5e row units include variable rate, individual row electric meter drives; SeedStar 3HP monitoring system; one year free activation of SeedStar Mobile; Curve Compensation; vacuum automation; meter runoff and built in RowCommand. To operate the electric drive meters, tractors need to have PTO for electric power generation.
Optional features available for use with planters equipped with MaxEmerge 5e units include easy-adjust row cleaners, individual row hydraulic downforce, pneumatic closing wheels and, depending on model of planter, fertilizer attachments. Active pneumatic downforce is standard equipment on all MaxEmerge 5e row units and ExactEmerge models.
"For customers running newer model planters, retro fit kits are available to convert to MaxEmerge 5e units which will improve seeding accuracy while increasing productivity and uptime," Boelens adds. "With today's tight margins, corn and soybean producers are looking for ways to maximize yields and productivity while saving time and input costs. Planting with a MaxEmerge 5e row unit equipped planter can help them achieve those goals."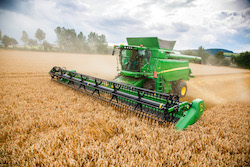 2017 will also bring changes to the John Deere T670 model walker combines.  The machine will offer a boost to productivity with a greater threshing capacity and straw quality for baling.  Deere also promises easier and less time consuming maintenance– benefits producers working in the rush of harvest time will appreciate!
Terry DeMay, senior marketing representative for John Deere Harvester Works, says the newly updated T670 will lead the industry in several new features.  "The new model year T670 combine has one of the largest active separation areas and largest cleaning shoe of any walker combine on the market today," says DeMay. "We've increased productivity by 15 percent in wheat and increased unloading rates by 50%. We've also made it easier to switch between small grains and canola, and improved the service points to allow producers to spend more time harvesting and less time waiting."
For customers harvesting both canola and small grains, the new T670 has a new swing-in Booster Bar that makes switching between crops easier and faster – often in less than 5 minutes – and easier to adjust as crop conditions change.
In addition, John Deere has increased the size of the overshot beater, concaves, separator drum and grate, and walker area as part of its updated T-concept solution. These are all designed to improve threshing speed, throughput, and straw and grain quality during harvest while making it easy to change over to other crops and optimize harvesting performance.
The machine can unload grain at 3.3 bushels per second, and offers easier access to service areas, with fewer filters to check and replace.  The cab is spacious, quiet and comfortable.
To learn about adding any of these updates to your farm, contact your local John Deere dealer.