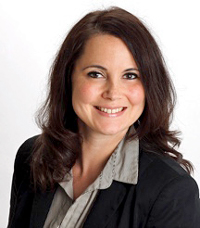 Let's welcome Francesca Vaughn to the agrimarketing community as the new Brand Marketing Communications Manager for New Holland North America. Francesca will be responsible for overall brand, product segment and channel marketing communications, in addition to management of creative agencies and vendors in North America.

"We're very excited for the level of expertise which Francesca brings to our organization", said Chun Woytera, Senior Director of Marketing. "Francesca will lead our team in key initiatives to enrich the New Holland brand in the marketplace and strengthen New Holland's connection with our diverse dealer network and customers. I'm confident that her creativity and leadership will be a tremendous addition to New Holland."
"New Holland is an exciting brand and exceptional as the leader of innovative agricultural machinery. This is a great opportunity to heighten visibility and captivation around this brand and to expand its position in the market. I'm thrilled to join this company and to become a part of this team", said Vaughn.

Francesca Vaughn brings over 15 years' experience in marketing and communications to New Holland since graduating with a bachelor's degree in English from Immaculata University. After serving most recently at CertainTeed Corporation as Marketing Communications Manager, her career also includes Marketing Communications and Product Marketing roles at Armstrong World Industries where she developed and executed multifaceted marketing programs and campaigns to promote the companies' flooring products to retail, dealer and consumer markets.