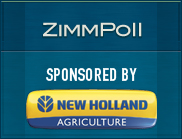 Our latest ZimmPoll asked the question, "How many generations has your family been involved in agriculture?"
It is always humbling to see the number of farmers and ranchers across the country who have been in the business for many generations. But honestly, I am more excited to see so many people involved in agriculture for the first generation. Farming isn't easy. It is far to often hard to meet ends meet. However, there is nothing more rewarding. I am proud to say my family has been involved in agriculture too many years to count.
Here are the poll results:
1st gen – 20%
Under 5 generations – 18%
5-10 generations – 31%
Too many to count – 31%
Our new ZimmPoll is now live and asks the question, How concerned are you about feeding 9 billion by 2050?
Demographers project we will have over 9 billion people to feed by 2050. Do you think this is a realistic prediction? If so, it opens a lot of opportunity for agriculture but also adds pressure to do so in a sustainable way. If not, then perhaps we don't have too much to worry about. Just how concerned are you about #Feedingthe9?