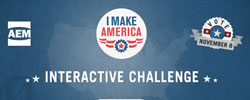 "I Make America" is the new smartphone game from The Association of Equipment Manufacturers.  The app was created to engage and educate the public on manufacturing issues that affect this election cycle.
The game can now be downloaded through the Apple Store, Google Play and the Windows Store.  Users participate in ag equipment-themed challenges, followed by multiple choice questions that test knowledge of manufacturing issues.
"AEM hopes that this I Make America Game serves as a compelling tool for manufacturing voters to get involved with I Make America and educate themselves on the issues that matter this election season," said AEM President Dennis Slater. "This is an important part of our broader effort to raise the profile of manufacturing issues during the campaign."
To support the game, the I Make America campaign plans to travel to over two dozen manufacturing facilities throughout the United States to engage employees and allow them a chance to compete in the game. I Make America will award prizes to the highest-scoring game user at each event, and a grand prize (a 3D television) to the highest-scoring app user by the election. Equipment manufacturers in Iowa include companies like Vermeer, John Deere, Kinze, Hagie, and many more.
"The I Make America Game is a terrific tool to help manufacturers educate their employees and their communities about the issues that affect our businesses," said Jim Barrett, Executive Vice President of Marketing, Farm, Ranch, and Agriculture Division for Blount International. "I would encourage all equipment manufacturers to get engaged through I Make America this year to energize the manufacturing voter base."