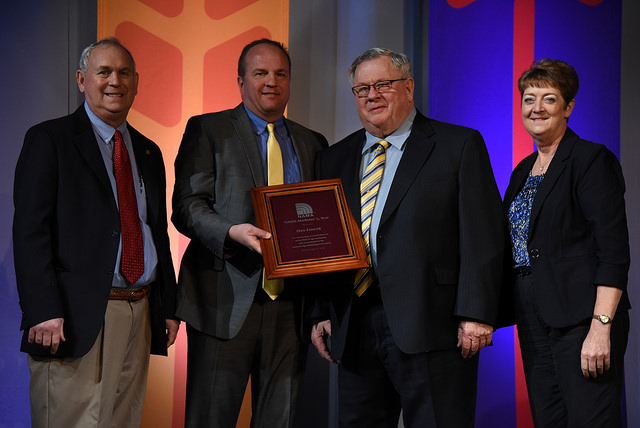 Dan Fanger was awarded the 2016 National Agri-Marketing Association (NAMA) Marketer of the Year earlier this year and during the "From the Ground Up" Agri-Marketing Conference he was presented with his award.
Fanger, who is the Vice President of Sales and Marketing at Unverferth Manufacturing, Co., Inc., has earned this honor for his outstanding accomplishment in agri-marketing. The award has been promoting excellence in the industry for more than 50 years and this year's presentation will be held at the 2016 Agri-Marketing Conference on April 14 in Kansas City, Missouri. The award is sponsored by Agri Marketing magazine.
Beginning in 1965 as the first full-time sales person for Unverferth Manufacturing Company, Fanger learned early how to build upon the company founders' successes by listening not only to what customers say, but to dig deeper to determine what they really mean. The knowledge he gained has sparked the innovation of new products and initiated numerous product enhancements that made them more valuable to farmers and increased dealer-customer profitability.
With Fanger's appointment in 1991 as Vice President, Sales and Marketing, Unverferth continued to develop new products. Throughout the '90s, he focused on expanding the hiring and training of a direct-sales force across North America.
Fanger's innovative marketing and managerial abilities have helped the company prosper in both up and down markets. Innovations, such as a dedicated dealer program, have helped the company gain market share and maintain a competitive edge. Raising the level of partnerships with vendors has further positioned the company as a leader in implement manufacturing and technology.
You can listen to his remarks here: [wpaudio url="http://traffic.libsyn.com/zimmcomm/nama-16-fanger.mp3″ text="Remarks from Dan Fanger, Agri-Marketer of the Year"]
Coverage of the Agri-Marketing Conference is sponsored by
Brownfield Ag News
and
Nufarm