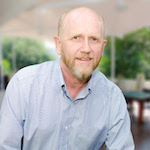 The Robert B. Daugherty Water for Food Institute at the University of Nebraska has announced a new executive director. Peter G. McCornick, an expert recognized internationally for his research in water, food, and the environment, will be taking the reins for the institute on September 1.
Currently McCornick is serving as the deputy director general for the International Water Management Institute in Colombo, Sri Lanka.  This institution is renowned for its deviation to improving management of water and land resources for food security.
McCornick has dedicated his career to improving the understanding of sustainable management of water resources. He has led research and development programs on water, agriculture and the environment in Africa, Asia, the Middle East and the U.S. His areas of interest include water and food security, the water-food-energy nexus, water reuse, irrigation management, and water and climate adaptation. McCornick earned his doctorate degree in agricultural engineering from Colorado State University, is a licensed professional civil engineer in the State of Colorado, a member of the American Academy of Water Resources Engineers, and a senior fellow at Duke University's Nicholas Institute for Environmental Policy Solutions. He has published widely and regularly presents at major international events. McCornick was born in Scotland and grew up on a livestock and dairy farm.
"There is perhaps no more urgent challenge facing the world today than sustainably feeding the growing global population," said Roberto Lenton, the WFI's founding executive director. "The University of Nebraska, through our Water for Food Institute, is uniquely positioned to lead the way in developing solutions. We are fortunate to have attracted someone with Peter McCornick's reputation and expertise to the executive director position. His deep knowledge of water and agricultural development in global contexts and his strong leadership skills will accelerate the impact the institute is making in ensuring water and food security in Nebraska and around the world."
McCornick said, "Roberto set the stage for the Water for Food Institute's global reach. I appreciate the tremendous work he has done in developing a strong team and growing the institute from an idea to a fully operational research center that is truly making a difference in improving water and food security for generations to come. I look forward to working with the University of Nebraska leaders, faculty and staff, as well as its many partners in the U.S. and internationally, to advance the institute's achievements and impact."