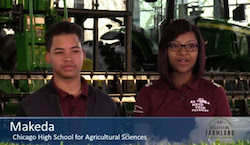 This week students across the nation had to opportunity to visit a farm without ever getting on a school bus.  The U.S. Farmers and Ranchers Alliance and Discovery Education have put together an unique program that allowed more than 1,200 schools to take a virtual field trip.
The event, titled "The Smart Farm: Where Technology and Innovation Meet" was hosted from Deere & Company's World Headquarters in Moline, Illinois.  From there students went to a hog, corn and soybean farm to meet Rayn Veldhuizen, a farmer featured in James Moll's award-winning documentary, FARMLAND.  Valdhuizen spent time discussing the technology and innovation on a farm today.
The National Corn Growers Association says they're pround to be part of the founding of the U.S. Farmers and Ranchers Alliance and the work they're doing.  "Before today, I couldn't imagine taking more than 35,000 students on a field trip to a farm – but that's exactly what USFRA did today with its Virtual Field Trip," said NCGA President Chip Bowling, who represents the organization on the USFRA board of directors. "Today's virtual field trip was a great way to share what takes place on farms like mine with audiences that can't visit rural communities."
The standards-aligned program also provides curriculum guides, lesson plans and interactive resources to teachers and students to help them gain real-world insight about where their food comes from.  Key issues covered in the material are: how technology has transformed the industry, challenges like weather and growing conditions, common stereotypes around farmers and ranchers, and market supply and demand.  These themes are echoes of the topics brought to life in the FARMLAND documentary.
For more information, visit the program website, www.discoveringfarmland.com, or the USFRA website, www.fooddialogues.com.