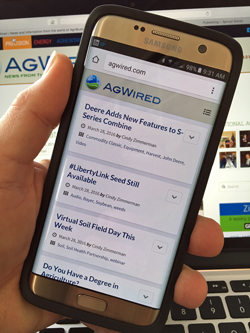 We're still not seeing a lot of agricultural apps in the Adroid world but I assume that it's just a matter of time. I have been keeping up with the mobile OS though with a tablet and phone. I recently upgraded my backup phone from a Samsung Galaxy S6 to the new S7 Edge. Mine is covered with an Otterbox Symmetry case.
One of the features of I was most looking forward to is the camera that is supposed to be far superior in low light than even my iPhone 6S. I haven't really had a good test for that yet but it does focus fast and takes excellent photos and video. Here are the basic specs:

5.5 Quad super AMOLED display
12 MP rear camera with dual pixel
CMOS 5MP front camera
32 GB storage, expandable to 200 GB
Marshmallow OS, Android 6.0
Battery: 3600 mAh
Water resistant up to 30 min in up to 5 ft of water

My first impression when I held it was how thin it is. It is also not as wide as my iPhone so it is easier to one hand text on it. I put a cover on it though because it is just so slick that I find it easy to slip out of my hand. The Otterbox case solves that issue for me.
The rounded edge has a handy function to bring up a short list of your most used apps, tasks and contacts. Once I realized how this works I found myself using the function quite a bit. The phone also has fingerprint security which is a feature I've loved on my iPhone. It works just fine.
A lot was said about this phone having much better battery life. Part of that is due to the new version of Android. My biggest complaint with the S6 was battery life. This phone is a huge jump forward in better battery performance. It still doesn't last as long as my iPhone battery but it's close. I can go almost two days without charging depending on how much I'm using it. I also purchased a wireless charger from Verizon and just set the phone on it and in a very short time it is fully charged. Much faster than plugging in via a cable.
The screen is beautiful and apps work noticeably faster. Speaking of apps, besides the form factor, battery, camera and screen the biggest surprise is how much more I like Android. Finally, an Android version is out that just seems to work faster and that makes using it more enjoyable.
I think Samsung has a winner here that I can recommend. If you're an Android AgNerd this is the best phone I've had the opportunity to use. Next month we'll be releasing a new version of our AgWired App and it will run on this latest version of Android. I'll let you know when it is ready.