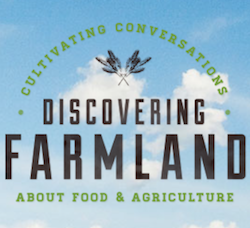 As the generations become further removed from agriculture and farms become more technologically advanced the gap between the two is ever widening.  The U.S. Farmers and Ranchers Alliance (USFRA) and Discovery Education are working to bridge that gap with a program designed to give students a firsthand look at modern agriculture–Discovering FARMLAND.  Now the two programs are offering a live education tool.  The Smart Farm: Where Technology and Innovation Meet will air on Tuesday, April 5, 2016 EST.
Available at no cost, this live virtual event hosted from Deere & Company World Headquarters in Moline, Ill., will transport classrooms across the country to a hog, corn and soybean farm to see today's modern agricultural practices in action. Students will also hear from fourth generation farmer Ryan Veldhuizen, who was featured in James Moll's award-winning documentary, FARMLAND, as he discusses technology and innovation on today's smart farms. Students and educators can register for the 45-minute event and submit questions ahead of time to be answered live at: www.discoveringfarmland.com/virtualfieldtrip.
"Technology drives all aspects of American society, and modern farms are leading this revolution in a very important area – food production," says Mace Thornton, American Farm Bureau Federation Executive Director, Communications, and USFRA Communications Committee Vice Chair. "Through this virtual field trip to the farm, technology also will create an opportunity for interactive transparency between high school students and the men and women who grow food for their families."
Discovering FARMLAND provides teachers with standards-aligned curriculum guides, lesson plans and resources and offers students real-world insights about where their food comes from.  The program will cover technology and its affects on the industry, weather and growing challenges faced by producers, stereotypes surrounding farmers and ranchers, and market supply and demand.  The curriculum highlights themes from the documentary FARMLAND and makes real-life connections to food choices, sustainability, entrepreneurship and antibiotics.
"Discovery Education is proud to continue our partnership with U.S. Farmers and Ranchers Alliance to offer classrooms nationwide this unique learning opportunity that supports students' understanding of STEM applications in the real world," said Lori McFarling, Senior Vice President, Discovery Education. "The Smart Farm virtual field trip challenges students to think critically about the relevance and importance of science and technology in our everyday lives while also reinforcing key concepts of food production, sustainability and innovation."
To learn more about the virtual field trip or Discovering FARMLAND, visit www.discoveringfarmland.com/virtualfieldtrip.