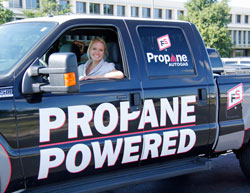 Propane continues to expand into new areas from grain drying to new irrigation engines. To learn more about propane, Cindy Zimmerman spoke with Becky Hornblower, GROWMARK's propane marketing and technical services manager, to get a handle on all things propane including its expanded use in agriculture.
As the forth largest propane retailer in the country, they have quite a member network to fuel the needs of the ag industry. Propane supplies are high right now leading up to what Hornblower calls "summer fill". In fact, propane inventories are at record high levels and prices are very competitive in the marketplace. She said that looking at May-June-July historically you see the lowest propane prices of the year with the largest supplies so she said this makes it a really good time to start filling the tanks. She added that through their members, they work closely with ag customers throughout the year, but especially heading in to fall to be sure growers have enough propane supplies to get them through harvest.
Hornblower works with the Propane Education Research Council (PERC) and in this role said they are looking at areas ripe for propane expansion. One such area is in irrigation and there are now propane-fueled irrigation systems. There is a farm incentive program in place where farmers can take advantage of funds to be used to convert or transition farm equipment to propane. For example, if a grower wants to convert a diesel engine to a propane engine in irrigation equipment, there is money for that.
Learn more about all things propane in this week's ZimmCast: [wpaudio url="http://traffic.libsyn.com/zimmcomm/growmark-propane.mp3″ text="Interview with Becky Hornblower, GROWMARK"]