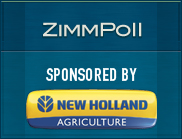 Our latest ZimmPoll asked the question, "What do you look forward to most in spring?"
I don't think it really matters who won this week's poll. What really matters is Spring is right around the corner and Spring means new beginnings. Farmers are busy preparing their fields and livestock babies of all shapes and sizes are being born each day. I am looking forward to many things and warmer weather tops my list.
Here are the poll results:
Warmer weather – 38%
Green grass & flowers – 28%
Planting – 10%
Spring showers – 5%
Other -19%
Our new ZimmPoll is now live and asks the question, What should Congress do about GMO labeling?
Despite the best efforts of Senate Agriculture Committee Chairman Pat Roberts (R-KS), the Senate failed to invoke cloture on the Biotechnology Labeling Solutions Bill in a 48-49 vote, blocking advancement of the legislation that would create a voluntary federal standard for labeling foods with genetically modified ingredients. Hundreds of agricultural organizations supported the Roberts bill and are disappointed in the outcome. What should be done now? Let us know how you feel.