The Association of Equipment Managers (AEM) gave a press conference on several issues facing the industry during their inaugural year as an official affiliate of the 2016 Commodity Classic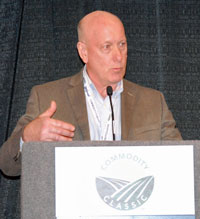 A major concern highlighted in the press conference was infrastructure deterioration occurring across the nation, which impacts the transportation of commodities and food to market. Senior Vice President Charlie O'Brien called on the industry to support AEM's Infrastructure 2050 Challenge, an initiative with a goal to inspire and craft a long-term vision for U.S. infrastructure by providing a platform for high-level thought leaders to contribute to and advocate for its development. The three-phased, crowdsourced competition will award $150,000 in prizes for innovative ideas.
"One of the questions we're going to start asking a lot is what the future holds for U.S. infrastructure," said O'Brien. "We'll be asking this question this coming year through many different channels, and we're looking for partners interested in working for us to promote the compelling stories that illustrate how important it is to address the issue of the crumbling U.S. infrastructure."
More information on the Infrastructure Vision 2050 Challenge can be found here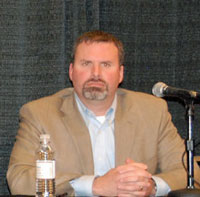 Nick Tindall, Director of Government Affairs, also spoke on some of the issues AEM is working on in Washington, DC.
"I feel that one of the most important things that AEM brings to the agriculture advocacy group in Washington, D.C. is how we expand the scope of the impact of agricultural issues," he said. "When a lot of law makers and policy makers in Congress think of something like crop insurance, they just think of farmers, but AEM is able to bring a different aspect to the conversation by highlighting how much these issues matter to industrial America."
Listen to the full press conference here:
[wpaudio url="http://traffic.libsyn.com/zimmcomm/classic-16-aem-presser.mp3″ text="AEM Press Conference at Commodity Classic"]