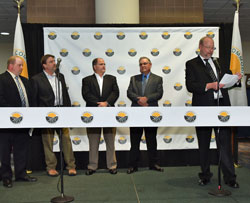 The 2016 Commodity Classic in the Big Easy was a big record setter.
Total attendance was 9,770, compared to 7,936 in 2015. Another record set was in the number of growers attending, at 4,596. Additionally, the trade show featured an all-time high of 433 participating companies, including 128 first-time exhibitors. These exhibitors filled a record 253,300 net square feet of booth space, 49 percent more space 2015's trade show in Phoenix.
"We had a great show in New Orleans, with terrific weather and a fantastic location," said Commodity Classic Co-Chair Wesley Spurlock. "As it was the first time in that venue, and with a new affiliate – the Association of Equipment Manufacturers – we were expecting a great event and got what we expected. A lot of smiling faces and growers who left town more informed, engaged and energized as we head into planting season."
The 22nd annual Commodity Classic will take place March 2-4, 2017, in San Antonio, Texas. Established in 1996, Commodity Classic is America's largest farmer-led, farmer-focused convention and trade show, produced by the National Corn Growers Association, American Soybean Association, National Association of Wheat Growers, National Sorghum Producers and the Association of Equipment Manufacturers.
Your AgWired team gathered a ton of photos and interviews at the Classic, most of which have already been posted.
Find links to all of the posts that have been done on AgNewsWire:
2016 Commodity Classic
Also, check out the BASF Commodity Classic posts, which feature butterflies and milkweed, Maglis and scholarships, and more:
2016 @BASFAgproducts Science Behind
BASF Science Behind Living Acres Photo Album
2016 Commodity Classic Photo Album