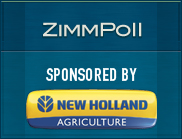 Our latest ZimmPoll asked the question, "How important are farm shows to farmers' buying decisions?"
Farm equipment and technology are big investments for farmers and ranchers. Buying on the fly isn't an option. Our latest poll confirms the need for farms shows that display the latest opportunities in the agriculture world.
Here are the poll results:
Very – 25%
Somewhat – 54%
Not at all – 13%
Depends – 8%
Our new ZimmPoll is now live and asks the question, What do you look forward to most in spring?
Spring is knocking at our door and I will assume we are all beginning to get Spring Fever. What are you looking forward to most this spring? Is it simply warmer weather or are you dying to dive into spring cleaning?