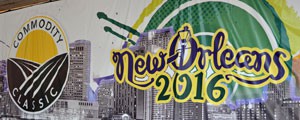 The AgWired team is in New Orleans this week (again) for the 2016 Commodity Classic.
2016 is set to be the biggest and best year for the farmer-led event established in 1996, with a record number of registered attendees and the biggest trade show in the event's history. From the trade show booths to breakout sessions, virtually every part of Commodity Classic is setting new standards this year.
"I really don't know where to start. Everything from the educational sessions to the Evening of Entertainment to the trade show is bigger and better," said Commodity Classic Co-Chair Sam Butler, a soybean farmer from Alabama. "This is also the first time Commodity Classic has been in New Orleans, and that takes the excitement level up a few notches as well."
The Association of Equipment Manufacturers is also participating in this year's Commodity Classic, adding considerable excitement and participation from leading equipment companies, including a number of short line manufacturers. "In the past we've had about 250,000 to 300,000 square feet of trade show space. We have 600,000-plus square feet for the trade show this year," said Commodity Classic Co-Chair Wesley Spurlock, a corn farmer from Texas. "With the addition of the Association of Equipment Manufacturers this year, we've seen many big equipment companies triple the size of their footprint for 2016."
Spurlock is especially excited about the Classic charity partnerships this year with Second Harvest and Roots of Music and he urges all attendees – or those unable to attend – to make a contribution this week. Just click here.
Learn more in this interview: [wpaudio url="http://traffic.libsyn.com/zimmcomm/classic16-spurlock.mp3″ text="Interview with Wesley Spurlock, NCGA First Vice President"]