The Senate Agriculture Committee today held a business meeting where the Chairman's Mark on Biotechnology Labeling Solutions was favorably reported with a bipartisan vote of 14-6. The legislation, which creates a voluntary national labeling law for genetically modified products, now heads to the full Senate for consideration.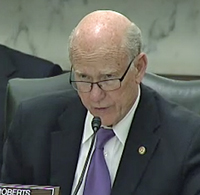 "This is really a conversation about a few states dictating to every state the way food moves from farmers to consumers in the value chain," said Committee Chairman Pat Roberts (R-KS). "The Chairman's Mark puts forward policies that will help consumers not only find information, but also demand information from manufacturers."
Various agricultural organizations supporting a voluntary national labeling standard have issued statements applauding the committee action.
"The bipartisan action today by the Senate Agriculture Committee in approving the chairman's mark on a biotech labeling solution is a key step forward to preventing a crazy quilt patchwork of state GMO labeling laws and the increased consumer food prices that would result," said National Council of Farmer Cooperatives President Chuck Conner. "This bill injects common sense, uniformity and transparency to the debate over this issue. At the same time, the bill would also create a program to better communicate with the public about GMOs."
"We couldn't be happier with today's vote and have full confidence that the full Senate will soon pass this legislation," added Claire Parker, spokesperson for the Coalition for Safe Affordable Food. "The House and Senate Agriculture Committees, as well as the full House of Representatives, have now supported a uniform, national labeling standard in bipartisan fashion. We have every reason to believe the full Senate will soon do so as well and a bill will be on the President's desk within weeks."