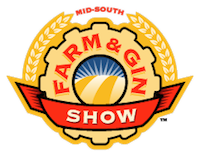 The 64th Annual 2016 Mid South Farm & Gin Show was held last week at the Cook Convention Center in Memphis, Tennessee. The event has been held in the same location since its beginning, and is sponsored by the Southern Cotton Ginners Association(SCGA).
The spacious facility offered the 17,000 attendees a four-story trade show, hosting 400 exhibitors from around 40 different states, and 15 foreign countries.
Outside of the trade show, attendees found educational opportunities around every corner, with breakout sessions, keynote speakers, meet and greet events with several state Farm Bureau presidents, and two Ag Outlook Seminars on the state of the commodities market.
"This is a fascinating show; it's grown every year, and every year is different, because every year we see a change in agriculture," said Show Director Tim Price. "This show is sort of a bell weather of what agribusiness professionals and farmers are thinking. There's a lot of great interaction opportunities for farmers and exhibitors. What we've found is through the years, some great innovations, great ideas, and the solutions to some great challenges have been raised through those interactions."
The level of community involvement surrounding the show also works to make it incredibly unique. FFA students from around the Mid-South were at the event, packaging meals for the Mid-South Food Bank as part of the event's "Farm Show Feeds" program. The program fed over 35,000 families last year, with hopes to do the same in 2016.
Listen to my full interview with Tim here:
[wpaudio url="https://four.libsyn.com/content/embed-code/item_id/4181404″ text="Interview with Tim Price, Farm & Gin Show Director"]