A meeting by the Senate Committee on Agriculture, Nutrition, and Forestry to consider the Chairman's Mark on Biotechnology Labeling Solutions has been postponed until next week. The committee meeting was scheduled for Thursday but is being delayed due to "changes on the Senate floor."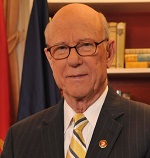 Senate Agriculture Committee Chairman Pat Roberts (R-KS) is pleased with the broad food and agriculture industry support he is receiving for the voluntary biotech labeling bill he has drafted.
"Our draft has the overwhelming support of virtually every agricultural industry from field to fork and beyond," Roberts said. "This demonstrates the widespread concerns of significant and critical sectors of our economy regarding the urgent need to address biotech labeling before the patchwork of state laws harms producers and consumers."
The chairman's proposed legislation has been endorsed by the Coalition for Safe, Affordable Food, which has sent a letter of support including signatures from more than 650 farmers, cooperatives, agribusinesses, processors, seed makers, handlers, food and feed manufacturers, lenders, and retailers. The letter urges the U.S. Senate to take quick action "to avoid the economic costs of a patchwork of state laws that will directly impact consumers, farmers, and the entire food value chain."
A new date for the committee meeting to consider the Chairman's Mark has yet to be announced.