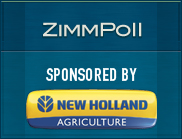 Our latest ZimmPoll asked the question, "How many farm shows/conferences do you attend?"
We have a very wide spectrum in our results this week. It looks like most people attend around 2 to 5 farm shows or conferences each year. As you can guess, those on the AgWired Team would fit into the 5 plus category. I think a future poll should ask the impact farm shows have on making purchases or decisions on the farm.
Here are the poll results:
1-2 – 17%
2-5 – 30%
5+ – 27%
None- 26%
Our new ZimmPoll is now live and asks the question, What is your favorite social media outlet for agriculture?
It is rare to find someone who isn't using social media for personal reasons, but when I find that person I respect their reasons. However, if you aren't using social media to market yourself, business or social issue you are missing out and getting left behind. Social media is one of the greatest places to promote our agricultural community. Do you have a favorite platform?