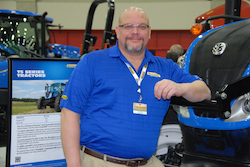 The T5 tractor series from New Holland has been re-engineered for 2016, and two brand new models were debuted at the 2016 National Farm Machinery Show. Todd Debock, New Holland Brand Marketing Manager, was on hand during the show to give a detailed tour of the new tractors, as well as a thorough overview of the customizable features available with the series.
The two new models of T5 tractors include the 107hp T5.110, and the 117hp T5.120. Both feature a fuel capacity of 43.6 gallons. The rear three-point linkage capacity has been raised to 8,084 pounds, while remote valve layout has been improved for easier coupling.
All new T5 models are equipped with the 3.4-litre Common Rail F5G engine, with ECOBlue Compact HI-eSCR technology, and feature Low rate Exhaust Gas Recirculation (EGR). The tractors are also Tier 4B compliant, adding up to outstanding efficiency, increased performance and up to 24% more torque backup for even more productivity.
"By going to Tier 4B and using our High SCR in depth solution, we've got improvements for our customers," said Debock, "There are improvements in fuel efficiency, but also improvements in performance."
Customers will be astounded at the number of customizable options available to add on to their machine, making it a perfect fit for their operation. An especially exciting optional full loader-ready package, compatible with New Holland 825TL and 835TL loaders, offers new mechanical or electrohydraulic joysticks with integrated transmission shifting will make operation easier and more efficient for customer using loaders with the tractor.
"If you're using loader application and you want to gear down as you go into a pile to get more torque and fill your bucket, you can do that," said Debock. "Then when you go to back up using your clutch-less shuttle, you can simply shift up and it improves cycle time. This has proven to just be an excellent feature for loader applications."
Listen to Jamie's full interview with Todd to learn more about all of the new features available with the new T5 series:
[wpaudio url="http://traffic.libsyn.com/zimmcomm/NFMS_16_Debock_NH.mp3″ text="Interview with Todd Debock, New Holland"]