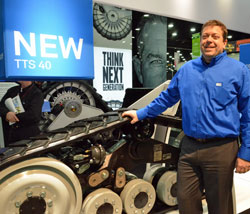 Last week at the National Farm Machinery Show in Louisville, Camso unveiled the new TTS 40 series narrow track system. Martin Lunkenbein, Product Director of Agriculture Systems at Camso, gave AgWired the details on the new track.
The TTS 40 series is available in two different widths: 15 inches for 20-22 inch rows or 18 inches for 30 inch rows, and can run at speeds up to 15 mph.
"We added the 40 series this year because applications are getting heavier and people are wanting to fit more between the rows. That takes down the surface area to distribute the weight. We came out with a 15- and 18-inch system for large applicators to help reduce the ground pressure and help people get through their fields." said Lunkenbein.
A narrow track solution for row crop application, the TTS 40 series allows growers to have heavier equipment, such as high capacity planters or fertilizer applicators, in the field with less compaction and a reduction in ground pressure.
"This system reduces the ground pressure by 70% compared to tires and increases our contact area by about 10-fold. It really has a direct impact on the ground reducing any damage or any compaction." Lunkenbein explained. For more on the series and how growers can a 5% yield increase, listen to Martin's full interview below.
Interview with Martin about the new TTS 40 series:
[wpaudio url="http://traffic.libsyn.com/zimmcomm/nfms16-camso-lunkenbein-tts40series.mp3″ text="Interview with Martin Lunkenbein, Camso"]