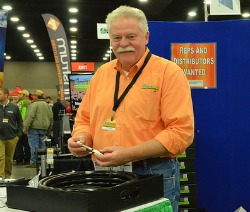 An in-field solution for hydraulic hose failures, Quick Fix offers a hydraulic hose kit that enables users to build a new hydraulic hose on-site within ten minutes using simple hand tools. Larry, with Quick Fix, filled us in on how easy to use the Quick Fix Hose Kit is, which you can see below.
Kits come in either 3/8″ or 1/2″ hose, and if you mention AgWired when you order online, you will be able to receive the discount normally reserved for NFMS show attendees. With reusable fittings and only hand tools required, the Quick Fix saves users down-time when a hydraulic failure would normally take a piece of equipment out of operation while parts were retrieved.
To see how the Quick Fix Hydraulic Hose Kit works, watch this quick video from the 2016 National Farm Machinery Show.