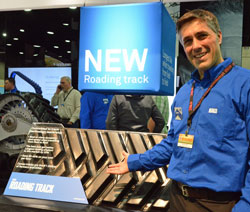 Eric Blondeau, head of Wheels and Tracks in the Agriculture department at Camso, spoke with AgWired to share how the new roading track that was unveiled at National Farm Machinery Show last week will benefit customers.
"We've taken the best roading track on the market and made it even better," says Blondeau. "Our new roading track promises best in-class durability and speed when travelling from one field to the next.
Although Camso is a 'Road-Free Company', they do invest research and development in products that will help their customers have piece of mind when getting work done. In this case, traveling from field to field. The new roading track gets you from field to field and with a 20% improvement in lifetime performance Camso's new roading track is sure to be the longest lasting currently on the market.
"We really focus on our cost per hour. This is the acquisition cost divided by the number of hours farmers can expect from their tracks. On that metric, we see a gap of 30-40% with our competition. That is really where farmers get their moneys' worth and stand out." explained Blondeau.
The roading track will be available through Camso distributors, on their website, or you can stop by their exhibit, #6820, through today at the National Farm Machinery Show.
Learn more about how the roading track will benefit customers in Eric's interview: [wpaudio url="http://traffic.libsyn.com/zimmcomm/nfms16-camso-blondeau-roadingtrack.mp3″ text="Interview with Eric Blondeau, Camso"]