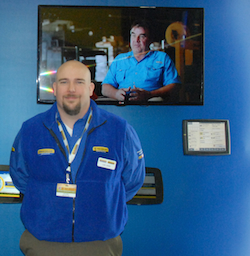 During this week's National Farm Machinery Show in Louisville, Kentucky, New Holland formally introduced the PLM RTK+ correction program, the first cellular-delivered RTK correction signal on the market, and several representatives were on-hand to discuss the diverse array of features and benefits this technology will offer producers across North America.
"The big idea is that as our farmers and producers are spreading out more and more, they want to have a correction signal that goes with them everywhere they go," said Luke Zerby, PLM Marketing Manager for New Holland, during an interview at the 2016 National Farm Machinery Show. "This is a signal service that we're going to have here, the first major OAM in North America that can offer it, that will have complete coverage across North America."
This system is the most advanced of its kind, using a cellular signal that allows the signal to be spread much further than traditional radio RTK systems. The signal is available and consistent with sub-inch accuracy anywhere within the network.
Once fully rolled-out, customers will be able receive correction signals from Northern Canada to the southernmost parts of Texas, as well as coast-to-coast across the US, as long as cellular data signals are available with a signal subscription.
"It's hard to keep a continuously accurate radio frequency on an operation, and with obstacles like mountains, trees, and buildings in the way, you would lose a direct line of sight with a continuous radio signal," said Zerby, "But with a cellular signal you won't have that, you'll have a continuous signal throughout."
RTK+ launched last week to the dealer body, and interested customers are encouraged to contact their local dealers for more information about the technology and how to subscribe.
Listen to Jamie's full interview with Luke here:
[wpaudio url="http://traffic.libsyn.com/zimmcomm/NFMS_16_Zerby_NH.mp3″ text="Interview with Luke Zerby, New Holland"]
View and download photos here: 2016 National Farm Machinery Show Photo Album