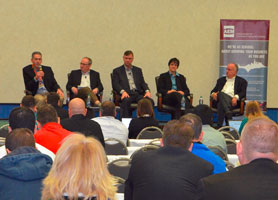 The Association of Equipment Manufacturers (AEM) hosted an Ag Executive Outlook panel during the opening day of the 2016 National Farm Machinery Show in Louisville this week. Industry executives on the panel included Todd Stucke with Kubota, Leif Magnusson of CLAAS Global Sales Americas, Jim Walker with Case IH NAFTA, Great Plains Manufacturing president Linda Salem, and AEM Senior Vice President for Government Affairs Nick Yaksich.
According to Yaksich, one of the top policy priorities for the ag equipment industry is supporting the Renewable Fuel Standard. "There are great opportunities with corn ethanol and beyond," he said. "On the top of our list is to maintain what the government has put into law."
AEM stresses industry involvement in policy issues with the I Make America campaign, which is dedicated to advocating for policies that strengthen their industry and economic vitality. "The key is grassroots involvement by voting members," said Yaksich. "We started the I Make America campaign to reach beyond the corporate CEOs."
Learn more in this interview: [wpaudio url="http://traffic.libsyn.com/zimmcomm/nfms-16-aem-yaksich.mp3″ text="Interview with Nick Yaksich, AEM"]
Walker with CASE IH, who serves as chairman of AEM's Ag Sector board, says the I Make America campaign is important to amplify the voice of agriculture. "When we as competitors can get together in our organization of AEM and pool our resources and unify our voices, it can be a very loud voice in Washington," said Walker.
The outlook panel also addressed the future of agriculture and Walker says increasing profitability and productivity will be key. "Really the technology of precision farming is really working with the input people, working with the manufacturers, and tying all that together is what's going to drive more profit per acre," he said.
In this interview, Walker also talks about the upcoming Commodity Classic, which will be the first time AEM's AgConnect will be part of the show.[wpaudio url="http://traffic.libsyn.com/zimmcomm/nfms16-aem-walker.mp3″ text="Interview with AEM Ag Chair Jim Walker, CASE IH"]