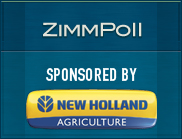 Our latest ZimmPoll asked the question, "What do you think of new dietary guidelines?"
Referring to the new Dietary Guidelines for Americans, many of those who took our recent poll feel nothing has really changed from past dietary guidelines and even more simply don't care.
Here are the poll results:
Fair – 0%
Nothing new – 37%
Good news – 0%
Disappointed- 0%
Who cares? – 63%
Our new ZimmPoll is now live and asks the question, What's your planting intentions prediction for 2016?
Planting season is getting closer and with lower prices and farm income down, the question is what will be planted this year? We'll just focus on corn and soybeans and ask, what do you think?