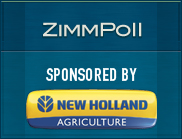 Our latest ZimmPoll asked the question, "What do you expect to be the top ag issue of 2016?"
We have been discussing the 2016 presidential elections for nearly a year already and it will only increase. When it comes to agriculture it should be one of the most talked about issues. So, I am not surprised to see it top our poll. We also had many chime in with milk prices, climate change and immigration. All important agricultural issues impacting our ag community.
Here are the poll results:
Trade – 13%
WOTUS- 0%
GMO labeling – 27%
Presidential election – 40%
Biofuel expansion – 0%
Other – 20%
Our new ZimmPoll is now live and asks the question, What do you think of new dietary guidelines?
Earlier this month the U.S. Department of Health and Human Services and the U.S. Department of Agriculture announced the 2015-2020 Dietary Guidelines for Americans. The guidelines are to encourage Americans to adopt a series of science-based recommendations to improve how they eat. What do you think of them? How will they impact how we grow/raise food?