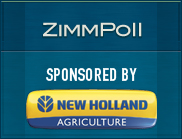 Our latest ZimmPoll asked the question, "What was your top ag story for 2015?"
We have a variety of responses to this week's poll. COOL repeal jumped to the top, but many of the others were trailing closely. And many of these hot button ag issues will follow us into 2016.
Here are the poll results:
TPP – 11%
COOL repeal- 28%
Avian flu – 6%
RFS proposal – 17%
Low commodity prices – 11%
WOTUS – 22%
Equipment sales down – 5%
Our new ZimmPoll is now live and asks the question, What do you expect to be the top ag issue of 2016?
2016 has already started with a bang with the announcement of the 2015-2020 Dietary Guidelines. And as each week goes by, we will continually add to the list of important agricultural issues impacting each segment of the industry. I don't have a crystal ball, but if you do please share what you expect to be the top ag issue in 2016.