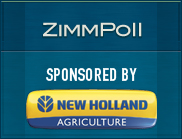 Our latest ZimmPoll asked the question, "What's your favorite food/drink gift?"
I am still stuffed from all the holiday food I consumed and still unpacking a plethora of gifts. Food and drinks are always great gifts to give and receive. It looks like fruit and wine topped this poll.
Here are the poll results:
Fruit – 33%
Candy – 0%
Cookies – 1%
Bread – 11%
Popcorn – 0%
Wine – 33%
Other alcohol – 11%
Variety baskets – 0%
Other – 11%
Our new ZimmPoll is now live and asks the question, What was your top ag story for 2015?
We are about to wrap up a very busy 2015 when it comes to agriculture news. We have compiled a list of some top stories we have been busy covering throughout the last 12 months. Which one do you feel topped your list? Was it some involving trade, animal ag, crops, policy, etc?