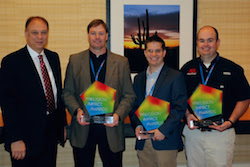 AgProfessional Magazine, MapShots AgStudio, and the Agricultural Retailers Association sponsored an award presented to three retailers leading the way in precision agriculture.  Accepting the Precision Impact Award on behalf of their companies were: Elliott Marsh, East Georgia Agronomy Services, Southern States Cooperative; Glen Franzluebbers, Central Valley Ag Cooperative, and Luke Lightfoot, Co-Alliance, LLC.
The award was presented on December 3 at the ARA conference.  Companies were selected for their input efficiency, grower engagement, environmental stewardship, innovation and profitability.
Nomination for the 2016 Precision Impact Awards are being accepted now.