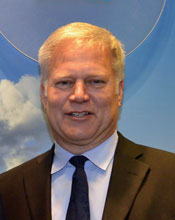 Last week, American Seed Trade Association First Vice Chair Mark Herrmann was still North America Commercial Lead for Monsanto Vegetables, but this week he has a new job.
Herrmann has been named president and CEO of AgReliant Genetics starting with the new year. He replaces former ASTA chairman Craig Newman, who celebrated his retirement from AgReliant at the ASTA CSS/Seed Expo last week after 37 years in the seed industry.
"I have greatly valued a career in the seed business that has offered numerous opportunities and responsibilities to understand and positively impact business processes and directly focused on increasing the success of farmers," said Herrmann. "I have always found it very rewarding to work in an industry that is so directly connected to our customers. I am excited to continue that effort as part of the AgReliant Genetics team."
Herrmann started his career in the seed business in 1984 as a district sales manager for DEKALB Pfizer Genetics and moved up to director DEKALB Corn Business. In 1998 when Monsanto purchased DEKALB Genetics, he moved to St. Louis as director US seed and biotech traits, moving up over the years to hold several positions of increasing responsibility within the company. Herrmann has been Monsanto's North American vegetable business lead since 2011.