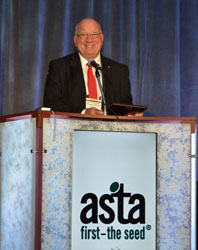 A giant in the plant breeding and genetics world was honored by the American Seed Trade Association (ASTA) and the National Council of Commercial Plant Breeders (NCCPB) during the CSS 2015 and Seed Expo last week in Chicago.
Donn Cummings retired from Monsanto after 30 years as a corn plant breeder, spending the last eight years of his career developing and recruiting the next generation of plant breeders. "This is very humbling, very special and unexpected," said Cummings in accepting the award. "I appreciate the chance to serve this society as well as Monsanto over the years. It's been a blast and I'm just glad to be here again this year."
Cummings was a Monsanto Scientific Fellow and holds ten inbred patents while contributing parent lines for many commercial corn hybrids. His inbreds have been used in hybrid development in a number of countries including Canada, France, Italy, Japan, New Zealand, Spain and South Africa.
ASTA president and CEO Andy LaVigne says Cummings is a role model in the plant breeding community. "We're going to miss him, but we hope he enjoys his retirement and still comes back to join us at this meeting," said LaVigne.