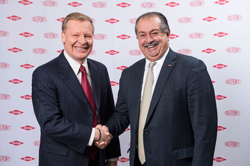 Dow Chemical and Dupont plan to combine in a merger of equals with the new company to be named DowDupont. This has led to some concerns in the industry. More on that below.
Pictured are Edward D. Breen, chairman and chief executive officer of DuPont and Andrew N. Liveris, Dow's chairman and chief executive officer.

DuPont (NYSE:DD) and The Dow Chemical Company (NYSE:DOW) today announced that their boards of directors unanimously approved a definitive agreement under which the companies will combine in an all-stock merger of equals. The combined company will be named DowDuPont. The parties intend to subsequently pursue a separation of DowDuPont into three independent, publicly traded companies through tax-free spin-offs. This would occur as soon as feasible, which is expected to be 18-24 months following the closing of the merger, subject to regulatory and board approval.
The companies will include a leading global pure-play Agriculture company; a leading global pure-play Material Science company; and a leading technology and innovation-driven Specialty Products company. Each of the businesses will have clear focus, an appropriate capital structure, a distinct and compelling investment thesis, scale advantages, and focused investments in innovation to better deliver superior solutions and choices for customers.
The National Corn Growers Association issued this statement from Chip Bowling, Maryland farmer and NCGA President, regarding the agreement this morning.

"The National Corn Growers Association is committed to protecting the best interests of our members and our nation's corn farmers. With respect to the proposed merger, we anticipate that we will have an opportunity to submit comments regarding the effect this merger may have on agricultural research, innovation, grain marketing, and the competitive pricing of farm inputs. We will do all we can to protect farmer interests and preserve an open and competitive marketplace."