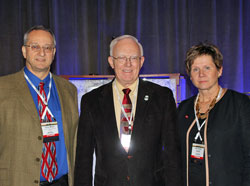 The application of seed treatment technologies in agriculture is such a growing and important segment of the industry that it was the very first session at the ASTA CSS 2015 and Seed Expo this week in Chicago. The session on Monday afternoon featured (pictured left to right) Terry Meyer with INCOTEC, moderator Jim Shearl with AgReliant Genetics, and Eda Reinot of BASF.
Reinot talked about the importance of seed applied technologies and how they go hand in hand with seed, tying it in with the message of ASTA's "Better Seed Better Life" campaign that the seed industry "ensures farmers have the seeds they need today to feed the world tomorrow."
"Seed applied technologies help to protect the seed in their most delicate, early growth stage," Reinot says. "The seed is associated with life but the seed also has to have protection from the environment." [wpaudio url="http://traffic.libsyn.com/zimmcomm/asta-css15-basf-eda.mp3″ text="Interview with Eda Reinot, BASF Seed Solutions"]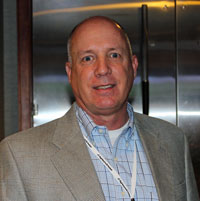 "We wanted to be able highlight important components of the seed treatment recipe, how they all come together and how the proper testing is in place before those products come to market," said ASTA Seed Treatment and Environment Committee Chair Jeff Daniels with the DuPont Seed Enterprise.
The seed treatment products coming on the market are delivering more value than ever to growers and Daniels says it's important that they be used correctly, which is why ASTA developed the seed treatment stewardship guide a few years ago. "We've gotten the chance to get this in front of many grower groups and other key stakeholders, and other been able to demonstrate to EPA and other regulatory groups that we're taking a proactive approach to steward seed treatment products," said Daniels.
Learn more in this interview: [wpaudio url="http://traffic.libsyn.com/zimmcomm/asta-css15-daniels.mp3″ text="Interview with ASTA Committee Chair Jeff Daniels, DuPont Seed Treatment"]