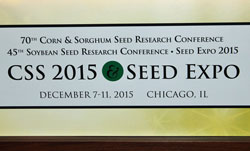 Seed industry representatives from around the globe are gathered in the Windy City this week for the 70th Corn and Sorghum Seed Research Conference, 45th Soybean Seed Research Conference, and Seed Expo 2015 – better known as CSS 2015 and Seed Expo.
"It's in Chicago and it's at the end of harvest, so all the seed companies get a chance to come together and look at how the season was and what they anticipate it to be next year," says American Seed Trade Association (ASTA) president and CEO Andy LaVigne. "We're going to have about 2900 people here this year and we continue to have a very diverse international audience coming to look at what the American seed industry is doing."
Among the big topics of interest to the seed industry right now is GMO labeling and the hope that Congress will take some action before the end of the year to head off a patch work of state and local laws set to be implemented. "We don't believe it's completely dead, we think we have some opportunities here to move the issue forward and we think it's imperative that we do that," said LaVigne. "You never really know what's going to happen until that omnibus piece of legislation is finished and sent to the president."
When it comes to the omnibus appropriations bill, LaVigne says they have a major concern about an attempt to add a rider to the bill that could have major implications to the industry, and it involves extending the Plant Variety Protection (PVP) for Marshall ryegrass, a silage variety released by Mississippi State University in 1981. "(This) variety has been out there for over 30 years now," explained LaVigne. "It's first PVP certificate after 18 years expired and then it got extended again through the appropriations process for ten years and it looks like they may be trying to do that again this time."
LaVigne says a PVP is similar to a patent and the extension expired last year so it is already in the public domain. "As far as we can tell there's close to half a million pounds of Marshall ryegrass that have been produced since that expiration out there in the market place and there's several hundred thousand acres of planted seed in the ground so there's no telling how that will be treated legally for people who have been reproducing and selling a public variety," he explained.
LaVigne says the purpose of the PVP is to protect the intellectual property rights for a certain period of time, but then it is allowed to go into the public domain, just like drugs or chemical products only have exclusivity for a certain length of time before they are released to go generic. "The expectation is that once that exclusivity period is over, it should go into the public good so more people have access to it at a lower rate," he said. ASTA sent a letter this week asking Senate leadership not to include this exception in the omnibus bill.
Listen to my interview with Andy here: [wpaudio url="http://traffic.libsyn.com/zimmcomm/asta-css15-andy.mp3″ text="Interview with ASTA CEO Andy LaVigne"]