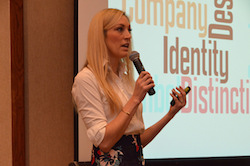 Shannon Oleen recently shook up the 2015 National Association of Farm Broadcasters Convention with a little information about building your business and your brand.  As a business owner and a millennial herself, Oleen has a lot of experience connecting with customers and clients through online platforms, email marketing, and social media.
"Communication is the fundamental piece for all of us as human beings," she says.  "It just looks a little different in 2015. And so I think that if we can just understand that and if we can come to the table with that level of understanding that we all have different backgrounds with technology and the way we're communicating via technology, if we can all just come to the table and say 'Okay, let's all find a way to play in this space together' then I think that's when we are all going to have awesome success for our businesses."
The Kansas City native has roots in agriculture and she brings her love of talking about building a brand and using technology and applies it to the needs of those in the agriculture broadcasting industry.  Make it easy, make it an experience Oleen tells us.
You can hear more of her message in this interview. [wpaudio url="http://traffic.libsyn.com/zimmcomm/nafb-2015-shannon-olean.mp3″ text="Interview with NAFB presenter Shannon Oleen"]