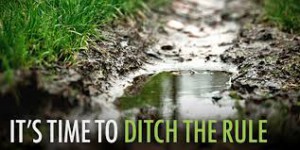 By a vote of 53-44 on Wednesday, the U.S. Senate passed a joint "resolution of disapproval" of the EPA Clean Water rule known as 'Waters of the United States' (WOTUS).
Resolution sponsor Senator Joni Ernst (R-IA) says the action would "put an end to" the expanded EPA rule. "Our resolution stops the EPA from continuing to act as an unchecked federal agency of the Obama Administration, expanding its power over Iowa farmers, small businesses, ranchers, and other landowners in our rural communities," said Ernst. "Passing this resolution is a major step forward to stop the EPA's blatant power grab and scrap the expanded WOTUS rule."
Click here to hear what Sen. Ernst said on the floor.
One of the bill's 50 co-sponsors, Senate Agriculture Committee Chairman Pat Roberts (R-KS) says the legislation will "put Senators on-record" as to where they stand on the WOTUS rule. "Farmers and ranchers now know who supports their ability to protect and maintain their own water and land – and who supports overregulation by the EPA," said Roberts. "You know where I stand – fighting to protect America's farmers and ranchers from EPA's overreach."
"Thank you to the bipartisan group of Senators who have recognized that the Waters of the U.S. rule did not work," said National Corn Growers Association (NCGA) president Chip Bowling. "Let's work together on a better rule that will give farmers the certainty they need while protecting America's water resources."
The president has already promised to veto the legislation.