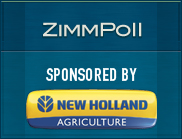 Our latest ZimmPoll asked the question, "How do you pass the time flying?"
The ZimmComm Team takes to the skies quite a bit throughout the year, so it was fun to see what others do to pass the time. I like to read and it looks like I am in the majority. It looks like we had a wide variety of answers. A few commented that they liked to watch movies and we even had a pilot chime saying he stuck to simply flying.
Here are the poll results:
Sleep – 30%
Read – 33%
Play games – 6%
Work – 13%
Other – 18%
Our new ZimmPoll is now live and asks the question, What's mass media's impact on consumer food opinion?
Throughout the last few weeks food has been the center of mass media. Whether it was Subway's announcement about antibiotics or the World Health Organization's claim of meat causing cancer, it seems positive messages about agriculture don't make mainstream news. How big do you think mass media's impact is on consumers opinion on food? Share your thoughts with us.