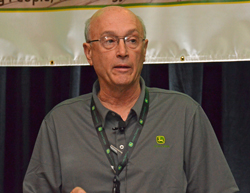 This morning John Deere announced that the company has acquired Precision Planting from the Climate Corporation, a subsidiary of Monsanto. Also included in the announcement is an exclusive agreement with Climate Corporation for near real-time data connectivity between certain John Deere equipment and Climate Corporation's FieldView Platform.
Making the announcement at the Develop with Deere conference in Kansas City this morning was Pat Pinkston. You can listen to his announcement below.
Yesterday Deere made another announcement that it is acquiring Monosem, a leading manufacturer of precision planters in Europe. Also announced is a joint venture creating SageInsights with DN2K's cloud software platform. Yep, lots of announcement from Deere!
Listen to Pat's comments here: [wpaudio url="http://traffic.libsyn.com/zimmcomm/jd-precision-planting-15.mp3″ text="Pat Pinkston, John Deere"]
You can find photos from the Develop with Deere conference here: Develop with Deere Photo Album