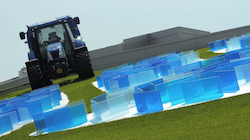 A new video produced by CNH Industrial, parent of global agricultural machinery brand New Holland Agriculture, looks at its prototype Methane Power tractor, and what it is capable of achieving during the the Sustainable Farm Pavilion at the 2015 Expo in Milan, Italy.
The alternative fuel technology powering that tractor is a promising cue towards the future of agricultural mechanization, one where farms will be energy independent as well as being able to fundamentally reduce their environmental footprint.
The T6 Methane Power tractor is a second generation prototype based on a standard New Holland T6 tractor. What makes it different from present day machines used for farming is that it is powered by a natural gas engine manufactured by FPT Industrial, also part of CNH Industrial's brand portfolio. It is a demonstration of the type of innovation and technology that CNH Industrial and its brands are pioneering to increase agricultural productivity and make sustainable farming easier to help feed the world.
In the video, CNH Industrial speaks to representatives from New Holland about the Methane Power tractor's presence at Expo 2015 as well as its real world testing at the 'La Bellotta' farm in Venaria, Italy, where it is undergoing field trials. La Bellotta is the farm where New Holland Agriculture is deploying its "Energy Independent Farm" concept. The objective is to generate the energy it needs from the crops it already grows, alongside recycled waste byproducts, to run its operations and farming equipment. "With biogas innovation, we've been able to restart investment and re-employ people. This is the result of a virtuous process," says Luca Remmert, Owner of La Bellotta Farm in the video.