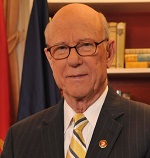 U.S. Senators Pat Roberts (R-KS) and Amy Klobuchar (D-MN) have introduced bipartisan legislation, supported by both the American Farm Bureau Federation and the National Farmers Union, to help farmers purchase new equipment and replace worn-out machinery by amending the U.S. tax code to permanently set a five-year depreciation schedule for certain agricultural equipment.
The current tax code sets a seven-year depreciation cost recovery period for agricultural equipment. Changing the depreciation schedule for agricultural equipment to five years would make the tax code more consistent and support rural development by aligning the length of time that farmers can take a depreciation deduction with the average useful life of that property.
"This commonsense legislation will give farmers and ranchers the certainty they need to invest in new, more modern equipment so they can create more jobs and growth in our communities," said Roberts, chairman of the Senate Agriculture Committee. "A five year depreciation schedule allows for predictability and fairness in our overly complex tax code, giving the agriculture community the ability to produce more efficiently and at a lower cost."
"Agriculture is cyclical in nature with producers making large investments in their crops, livestock, buildings, and equipment," Klobuchar said. "We need to ensure our tax code is fair for farmers so that they can purchase the modern equipment that will allow them to produce more while spending less. This commonsense legislation will put money back in the pockets of our farmers and ranchers and enable them to grow our agricultural economy and strengthen our rural communities."
Under the tax code, taxpayers are allowed a depreciation deduction to allow them to recover the costs of investing in certain property, like farm machinery and farm-use motor vehicles. The recovery period for the deduction should match the useful life and financing of that property. According to surveys from the USDA's Farm Service Agency, on average farmers and ranchers finance farm equipment and machinery for five years.