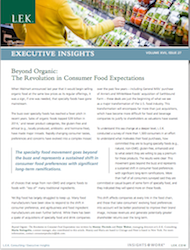 According to a new report, "Beyond Organic: The Revolution in Consumer Food Expectations," specialty foods are here to stay. The report looked at consumer preferences and purchase habits of specialty foods including gluten free and ethically produced (non-GMO, antibiotic, hormone free, etc.). According to co-author Peter Walter, consumers are particularly committed to certain types of specialty, or organic foods. For example, 70 percent of respondents who purchase either occasionally or frequently prefer all natural products while 68 percent prefer locally produced food. However, many Big Food companies are struggling to keep up but those who address health, sustainability and ethical concerns of consumers are positioned to benefit.
This major shift in consumer preference will require overhauling or rebuilding supply chains, launching or acquiring new brands, and identifying how to manage input costs while still turning a profit. But important for Big Food, Walter says consumers are willing, and pay more, for specialty products and this trend is here to stay.
Significant commitments have been made by CPGS, grocery and food service to consumers and the supply chain is evolving to cope with this. A critical part of the supply chain? Growers.
USDA's Organic Survey (2014) found organic product sales by farms in the U.S. increased 83 percent between 2007 and 2012. USDA's report is a third in a series of ongoing surveys to assist not only producers but suppliers to the organic industry who use the data to plan production and marketing of new products.
The USDA Organics Survey looks at how many acres are currently "organic" approved, exempted or in the transition phase to become organic. The survey finds there are 14,093 current certified or exempted organic farms in the U.S. with 3,670, 560 total organic acres in production with California leading in organic farms and organic acres in production.
One way the financial risk is being offset by food chains such as Walmart, is contracting directly with growers. Walter says companies that offer farmers the same price or a premium will help growers on the fence begin the three year process of organic conversion. He notes so far the dairy industry output has been adequate whereas fruits and vegetables are still being imported. In addition, Walter says, there is not adequate supply of non-GMO corn in the U.S. a trend that is still high-profile, and food companies are importing the ingredient.
Other production areas that are seeing widespread change is in the poultry industry where retail chains such as McDonalds have committed to moving to 100 percent cage free eggs by 2025. Walter says the U.S. market is not big enough to meet current demand, let alone growing demand as more restaurants follow suit.
Walter is confident that the food industry will catch up and that growers, with continued growth of the specialty food industry along with contract commitments, will continue to make the transition of at least a portion of their acres to natural and organic ingredients.
Originally posted by Joanna Schroeder on AgWired.com