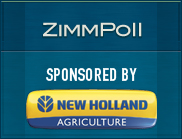 Our latest ZimmPoll asked the question, "Where or how do you hunt?"
I won't lie. I was a bit surprised we had so many non-hunters out there. I personally don't hunt, but have many friends and family that do. I don't hunt simply because I don't think I could actually sit still and quiet long enough to not scare away my target. But those that do hunt seem to focus their efforts on their own property. You may not know this, but Chuck is an avid hunter. If you have time to kill just ask him about Crystal Pig Hunt Club.
Here are the poll results:
Own property – 33%
Private property – 14%
Public property – 0%
Organized hunt – 0%
Don't hunt – 53%
Our new ZimmPoll is now live and asks the question, Is TPP good for US agriculture?
Trade talks in Atlanta are a wrap, but we will continue to talk about the Trans-Pacific Partnership (TPP) and it's impact on agriculture. And it seems like everyone has something to say about the agreement. What do you have to say? Is it good for all of agriculture, parts or bad news for everyone?