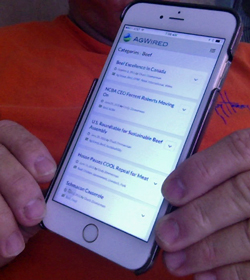 In keeping with tradition, I have a new iPhone. Partially because I need one, but mostly because I want one.
This iPhone 6S Plus agriblogging tool just continues to get better. I use mine for work, how about you? Is the screen big enough to supplant using an iPad on the farm?
This is not meant to be a complete review of the device. You can find those here and here. However, I have been using it for a few days and have some initial thoughts to share.
When I bought my "old" iPhone 6 I chose the smaller size thinking that the Plus would not be easy to handle because of its size. But after sitting next to people on planes, trains and automobiles using the Plus form and watching them use their big phones I changed my mind. I can still one hand text although I prefer using two when I can. The force touch feature provides shortcuts on a lot of apps that I use like Messages. I'm sure that developers are in high gear updating their apps to take advantage of new features.
I know a lot of farmers with big hands and this phone will fit them just fine. If you want to look at maps and see more real estate this screen will give it to you. I am loving the cameras. Both front and back are better and IMO the iPhone 6 had the best cameras of any phone. You'll be seeing a lot of tweet photos from this iPhone starting with next week's IFAJ Congress in New Zealand. More on that later.
I can see this Plus size iPhone becoming a very good option to an iPad in the cab. How about you ag app developers? What do you think about the new iPhone 6S Plus?
I added a Sena Lugano Wallet leather case with a couple slots to carry a credit card or some cash. That's iPhone styling!